About us
The Traumatic Brain Injury Network aims to unite people, services and research to discover how to prevent and optimise recovery from traumatic brain injury. More can be achieved by working together.
Our aims
We aim to:
Connect those affected, researchers, clinicians, service providers and policymakers
Encourage new researchers and grow capacity in the field
Stimulate new ideas and new ways of 'doing'
Prioritise research 'that matters' to patients and their whānau and services
Provide evidence of what works to support consistent, high quality healthcare across New Zealand
Facilitate translation of research findings into everyday life to make a difference
Join us
Become a TBI Network member to receive updates on global activities and get connected to others working in the field or interested in helping to shape our research. We are keen to hear from patients, clinicians, parents, community groups and stakeholders.
You can sign up to get our updates using the form on this page, or follow us on Twitter.
Research areas
TBIs can affect people of all ages and so our research includes people across the lifespan from birth until older age.
Our work explores injuries sustained in different settings like sport, work, everyday injuries, violence, falls, and motor vehicle accidents.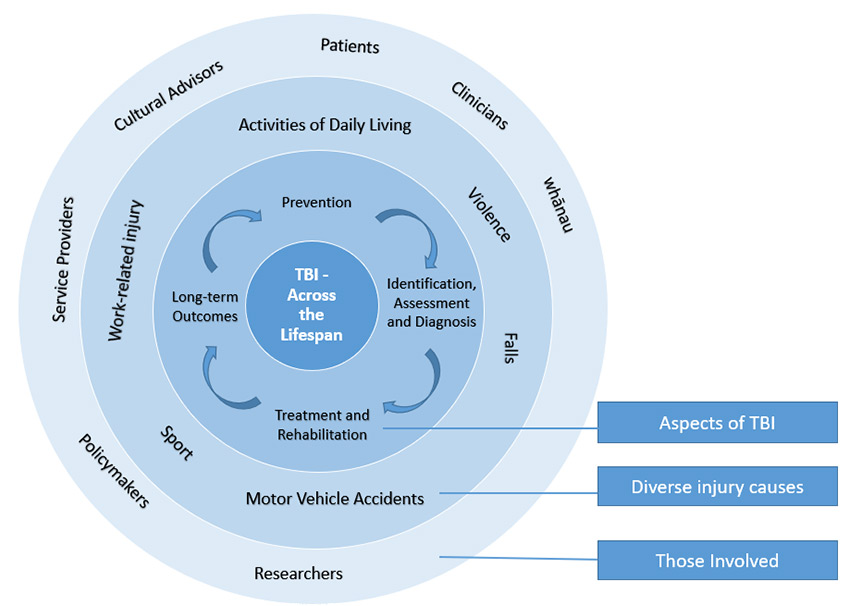 Ways to give to the TBI Network
By giving to the TBI Network you can help us achieve our aim of delivering more effective research, faster.
Code of Ethics for members
Members of the AUT Traumatic Brain Injury Network must accept and comply with the network's Code of Ethics, which sets out a standard of professional behaviour.